Proper 22C
World Wide Communion Sunday
We welcome in a spirit of silence as the prelude begins our service.
The flowers today are given to the glory of God, in memory of loved ones and in joyous celebration of Rev. Terry's birthday and Tenth Anniversary with our beloved church by members and friends!
OUR APPROACH TO GOD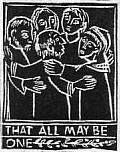 Prelude
Introit

Welcome!

Call to Worship: Romans 5:1-11, 18 (NASB, From the Bible Gateway)

*Hymn 285 "In Christ There Is No East or West"

Let us be before our God in silence.

Unison Prayer: Psalm 80
RESTORE US, O GOD OF HOSTS; LET YOUR FACE SHINE, THAT WE MAY BE SAVED. YOU BROUGHT A VINE OUT OF EGYPT; YOU DROVE OUT THE NATIONS AND PLANTED IT. YOU CLEARED THE GROUND FOR IT; IT TOOK DEEP ROOT AND FILLED THE LAND...TURN AGAIN, O GOD OF HOSTS; LOOK DOWN FROM HEAVEN, AND SEE; HAVE REGARD FOR THIS VINE, THE STOCK THAT YOUR RIGHT HAND PLANTED.

Kyrie (sung)
LORD, HAVE MERCY ON US.
CHRIST, HAVE MERCY ON US.
LORD, HAVE MERCY ON US.

A Word of Assurance:

The Summary of the Law (Mark 12:29b-31)
This is the first commandment:
HEAR O ISRAEL,
THE LORD OUR GOD,
THE LORD IS ONE!
THEREFORE YOU SHALL LOVE THE LORD YOUR GOD
WITH ALL YOUR HEART,
WITH ALL YOUR SOUL,
WITH ALL YOUR MIND,
AND WITH ALL YOUR STRENGTH.
This is the second commandment:
YOU SHALL LOVE YOUR NEIGHBOR AS YOURSELF.
There is no greater commandment than these.

Anthem "Come Celebrate Jesus" J. Rosaseo

*Responsive Reading: Psalm 37:1-9

*Gloria Patri (Hymn No. 623)
GLORY BE TO THE FATHER
AND TO THE SON
AND TO THE HOLY GHOST.
AS IT WAS IN THE BEGINNING,
IS NOW AND EVER SHALL BE,
WORLD WITHOUT END,
AMEN, AMEN!

The Greeting of Peace
Announcements & Children's Moment

Scripture Lessons:
Jewish Scriptures: Habakkuk 1:1-4; 2:1-4
Epistle: 2 Timothy 1:1-14
The Celtic Alleluia!
Gospel: Luke 17:5-10
Communion Meditation

OUR RESPONSE TO GOD


*Hymn BB 414 "Make Me a Channel of Your Peace"
The Offering
*Doxology (625) and Prayer
PRAISE GOD FROM WHOM ALL BLESSINGS FLOW;
PRAISE GOD ALL CREATURES HERE BELOW;
PRAISE GOD ABOVE YE HEAVENLY HOSTS;
PRAISE FATHER (CREATOR), SON (CHRIST) AND HOLY GHOST. AMEN.

The Invitation to the Table
*Hymn BB 354 "One Bread, One Body"
The Communion Prayer
The Breaking of the Bread
The Thanksgiving Prayer & the Lord's Prayer
*Hymn 64 "All Creatures of Our God & King"
*Benediction
*Response to the Benediction
Postlude

*Please stand if you are able.

We mark the start of our One Great Hour of Sharing Collection and Fall Food Drive today!
---