Proper 23C
Peace with Justice Sunday
We welcome in a spirit of silence as the prelude begins our service.
The flowers today are given to the glory of God, in memory of Louis Oppediasano by his daughter Dolores and grandchildren Patrica and Paul Stillman.
OUR APPROACH TO GOD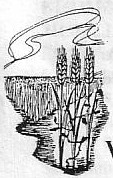 Prelude
Introit "Bless His Holy Name" A. Crouch

Welcome

Call to Worship: Psalm 33 & Tobit 13
Shout joy to the Lord, lovers of justice!
HOW RIGHT IT IS TO PRAISE GOD!
For the word of God is true: what God says, God does!
THIS LOVER OF TRUTH AND JUSTICE FILLS THE EARTH WITH LOVE!
Match your praise to all God has done for you.
BLESS THE LORD OF JUSTICE, WHO RULES FOREVER!

*Hymn 6 "Sing Praise to God Who Reigns Above"

Let us be before our God in silence.

Unison Prayer: Psalm 15 & 5
LORD, WHO IS WELCOME IN YOUR HOUSE? WHO CAN REST ON YOUR HOLY MOUNTAIN? THOSE WHO WALK WITH INTEGRITY AND DO ONLY WHAT IS RIGHT, SPEAKING TRUTH WITH COURAGE...THESE ARE THE JUST: THEY STAND FOREVER UNSHAKEN...YOU NEVER WELCOME EVIL, GOD, NEVER LET IT STAY...BY YOUR GREAT MERCY I ENTER YOUR HOUSE AND BEND LOW IN AWE WITHIN YOUR HOLY TEMPLE...BRING ME YOUR JUSTICE.

Kyrie (sung)
LORD, HAVE MERCY ON US.
CHRIST, HAVE MERCY ON US.
LORD, HAVE MERCY ON US.

A Word of Assurance:

The Summary of the Law (Mark 12:29b-31)
This is the first commandment:
HEAR O ISRAEL,
THE LORD OUR GOD,
THE LORD IS ONE!
THEREFORE YOU SHALL LOVE THE LORD YOUR GOD
WITH ALL YOUR HEART,
WITH ALL YOUR SOUL,
WITH ALL YOUR MIND,
AND WITH ALL YOUR STRENGTH.
This is the second commandment:
YOU SHALL LOVE YOUR NEIGHBOR AS YOURSELF.
There is no greater commandment than these.

Anthem "Come, Thou Almighty King" S. de Giadini

*Responsive Reading: insert

I waited patiently for God,
For God to hear my prayer
And God bent down to where I sank
And listened to me there.

God raised me from a miry pit, from
mud and sinking sand,
And set my feet upon a rock
Where I can firmly stand.

And on my lips a song was put,
A new song to the Lord.
Many will marvel open-eyed
And put their trust in God.

Great wonders you have done, O Lord
All purposed for our good.
Unable everyone to name,
I bow in gratitude.

*Gloria Patri (Hymn No. 623)
GLORY BE TO THE FATHER
AND TO THE SON
AND TO THE HOLY GHOST.
AS IT WAS IN THE BEGINNING,
IS NOW AND EVER SHALL BE,
WORLD WITHOUT END,
AMEN, AMEN!

The Greeting of Peace
Announcements
*Hymn "Lord, Let My Heart Be Good Soil"

Scripture Lessons:
Jewish Scriptures: Jeremiah 29:1, 4-7
Epistle: none
The Celtic Alleluia!
Gospel: Luke 17:11-19
Sermon by the Rev. Christine Dyke

OUR RESPONSE TO GOD


*Hymn "I've Got a River of Life" (2 times)

I've got a river of life flowing out of me
Makes the lame to walk and the blind to see
Opens prison doors, lets the captives free
I've got a river of life flowing out of me

Spring up O well, within my soul
Spring up O well, and make me whole
Spring up O well, and give to me
That life abundantly

The Offering
*Doxology (625) and Prayer
PRAISE GOD FROM WHOM ALL BLESSINGS FLOW;
PRAISE GOD ALL CREATURES HERE BELOW;
PRAISE GOD ABOVE YE HEAVENLY HOSTS;
PRAISE FATHER (CREATOR), SON (CHRIST) AND HOLY GHOST. AMEN.

A Time of Giving Thanks & Praise
The Prayer of the People & the Lord's Prayer
*Hymn 382 "Be Thou My Vision"
*Benediction
Postlude

*Please stand if you are able.

Please join us today on this Peace with Justice Sunday in providing bread with dignity for our immigrant day laborers. We will be buttering rolls in the Parish House, immediately after worship. Thanks for your help & good will! Remember to bring food for our fall food drive!
---