Thanksgiving Sunday
World Hunger Sunday
We welcome in a spirit of silence as the prelude begins our service.
The flowers are given to the glory of God & in memory of Josephine & Henry & loved ones by the Safay Family.
OUR APPROACH TO GOD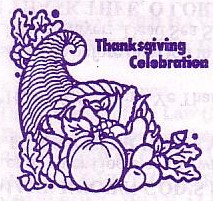 Prelude
Introit "Majesty" J. Hayford

Welcome

Call to Worship: Psalms
God owns this planet and all its riches.
THE EARTH AND EVERY LIVING CREATURE BELONG TO GOD.
O give thanks to the Lord, call on God's name
MAKE KNOWN GOD'S DEEDS AMONG THE PEOPLES!
Let us enter God's courts with thanksgiving.
LET US ENTER HIS TEMPLE WITH PRAISE!

*Hymn 559 "Come Ye Thankful People Come"

Let us be before our God in silence.

Unison Prayer: Dead Sea Scrolls
I THANK THEE, O LORD, BECAUSE THOU HAS BOUND ME IN THE BUNDLE OF LIFE. I THANK THEE, O LORD, BECAUSE THOU HAST SAVED ME FROM THE PIT. I THANK THEE, O LORD, BECAUSE THOU HAST GLADDENED ME WITH THY COVENANT. I THANK THEE, O LORD, BECAUSE THOU HAST SET THINE EYE UPON ME.

Kyrie (sung)
LORD, HAVE MERCY ON US.
CHRIST, HAVE MERCY ON US.
LORD, HAVE MERCY ON US.

A Word of Assurance: Psalm 103:1-5

The Summary of the Law (Mark 12:29b-31)
This is the first commandment:
HEAR O ISRAEL,
THE LORD OUR GOD,
THE LORD IS ONE!
THEREFORE YOU SHALL LOVE THE LORD YOUR GOD
WITH ALL YOUR HEART,
WITH ALL YOUR SOUL,
WITH ALL YOUR MIND,
AND WITH ALL YOUR STRENGTH.
This is the second commandment:
YOU SHALL LOVE YOUR NEIGHBOR AS YOURSELF.
There is no greater commandment than these.

Anthem "Sing to the Lord of Harvest" H. Willan

*Responsive Reading: Psalm 67

*Gloria Patri (Hymn No. 623)
GLORY BE TO THE FATHER
AND TO THE SON
AND TO THE HOLY GHOST.
AS IT WAS IN THE BEGINNING,
IS NOW AND EVER SHALL BE,
WORLD WITHOUT END,
AMEN, AMEN!

The Greeting of Peace
Announcements
Children's Moment
"Thank You Jesus" (tune: Alleluia #91)

Scripture Lessons:
Jewish Scriptures: Joel 2:21-27
Epistle: 1 Timothy 2:1-7
The Celtic Alleluia!
Gospel: Matthew 6:25-33
Thanksgiving Meditation

OUR RESPONSE TO GOD


*Hymn 557 "In Thanksgiving Let Us Praise Him"
The Offering
*Doxology (625) and Prayer
PRAISE GOD FROM WHOM ALL BLESSINGS FLOW;
PRAISE GOD ALL CREATURES HERE BELOW;
PRAISE GOD ABOVE YE HEAVENLY HOSTS;
PRAISE FATHER (CREATOR), SON (CHRIST) AND HOLY GHOST. AMEN.

A Time of Giving Thanks & Praise
The Prayer of the People & the Lord's Prayer
*Hymn 556 "Now Thank We All Our God"
*Benediction
Postlude
Postlude "Hymn Medley"

*Please stand if you are able.
---