<![if !vml]>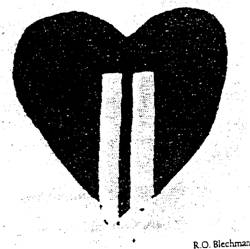 <![endif]>
Let us open our minds and hearts
to the place of quiet,
to the silent prayer of the healing of pain,
and the soft, gentle coming of love.
September 11th
3rd Anniversary
September 12, 2004
New Utrecht Reformed Church, Brooklyn, New York
---
Prelude
Introit
"Seek Ye First" K. Lafferty
Call to Worship
God is our refuge and strength;
A very present help in time of trouble.
THEREFORE WE WILL NOT FEAR,
THOUGH THE EARTH SHOULD CHANGE,
Though the mountains shake in the heart of the sea;
Though its waters roar and foam,
Though the mountains tremble with its tumult.
THERE IS A RIVER WHOSE STREAMS MAKE GLAD THE CITY OF GOD, THE HOLY HABITATION OF THE MOST HIGH.
God is in the midst of the city; it shall not be moved;
God will help it when the morning dawns.
THE NATIONS ARE IN AN UPROAR, THE KINGDOMS TOTTER;
GOD UTTERS HIS VOICE, THE EARTH MELTS.
The Lord of hosts is with us;
THE GOD OF JACOB IS OUR REFUGE. - Psalm 46:1-7
Opening Hymn: "My Country Tis of Thee"
Meditations
But the souls of the righteous are in the hands of God, and no torment will ever touch them. In the eyes of the foolish they seemed to have died, and their departure was thought to be a disaster, and their going from us to be their destruction; but they are at peace...they will receive great good...in the time of their visitation they will shine forth, and will run like sparks through the rubble...the faithful will abide with God in love, because grace and mercy are upon God's holy ones...Wisdom 3: 1ff
In the highest fields
Near the snow, near the sun,
See how these names are feted
By the waving grass
And by the streamers of white cloud
And whispers
of wind in the listening sky:
The names of those who in their lives
Fought for life,
Who wore at their hearts the fire's center.
Born of the sun
they traveled a short while towards the sun
and left the vivid air signed with their honor.
-Stephen Spender (excerpted)
"When Great Souls Die"
by Maya Angelou, from "Ailey, Baldwin, Floyd, Killens and Mayfield"
When great souls die,
the air around us becomes
light, rare, sterile.
We breathe, briefly.
Our eyes, briefly,
see with
A hurtful clarity.
Our memory, suddenly sharpened,
examines,
gnaws on kind words unsaid,
promised walks never taken.
And when great souls die,
after a period peace blooms,
slowly and always
irregularly. Spaces fill
with a kind of
soothing electric vibration.
Our senses, restored, never to be the same,
whisper to us.
They existed.
We can be. Be and be better.
For they existed.
Anthem "Take My Life" H. Cesar Malan
Reflection: Dennis McKeon
Chairman, St. Clare's World Trade Center Outreach
A Litany of Remembrance
In the rising of the sun and in its going down,
WE REMEMBER THEM.
In the blowing of the wind and in the chill of winter,
WE REMEMBER THEM.
In the opening of buds and in the rebirth of spring,
WE REMEMBER THEM.
In the blueness of the sky and in the warmth of summer,
WE REMEMBER THEM.
In the rustling of leaves and in the beauty of autumn,
WE REMEMBER THEM.
In the beginning of the year and when it ends,
WE REMEMBER THEM.
When we are weary and in need of strength,
WE REMEMBER THEM.
When we are lost and sick at heart,
WE REMEMBER THEM.
When we have joys we yearn to share,
WE REMEMBER THEM.
So long as we live, they too shall live,
FOR THEY ARE NOW A PART OF US,
AS WE REMEMBER THEM.
-Roland B. Gittlesohn (adapted)
Prayer from the Penn Station Wall (please join us in praying together)
We hold strangers in our arms and share their loss.
We hold a stranger's hand and pray, nor just a prayer
Of our faith, but prayers from many religions.
The world stopped and shared a moment of silence.
At home we hold those we love, a little tighter, a little
longer. We are different. We are changed.
Let us comfort those who mourn. Let us show compassion to those in need. Let us pray for those who died. Let us work with those who rebuild. Let us not take life for granted. And Lord, let us tell our father, mother, sister, brother, son, daughter, husband, wife, cousin, aunt, uncle, lover and friend, we love them. --­TM 9/11/01
Offertory followed by the Doxology
PRAISE GOD FROM WHOM ALL BLESSINGS FLOW
PRAISE GOD ALL CREATURES HERE BELOW
PRAISE GOD ABOVE YE HEAVENLY HOSTS
PRAISE FATHER, SON AND HOLY GHOST.
Offering Prayer
A Prayer for Ourselves
A Prayer of Consolation
O GOD, FULL OF COMPASSION, WHO DWELLS ON HIGH, GRANT EVERLASTING REST BENEATH THE SHELTER OF YOUR SHEKINAH, YOUR DIVINE PRESENCE, AMONG THE HOLY AND PURE, TO THE ONES WHOSE NAMES WE HAVE SPOKEN IN BLESSED MEMORY TONIGHT AND ALL WHO PERISHED ON THE DAY OF SEPTEMBER 11TH. MAY THEIR SPIRITS, O MERCIFUL ONE, BE SHELTERED FOREVER UNDER YOUR PROTECTION. MAY THEIR SOULS BE BOUND UP ON THE BOND OF LIFE, THAT DEATH CANNOT BREAK. GRANT THAT THE MEMORIES OF OUR LOVED ONES INSPIRE US TO NOBLE, HOLY AND CONSECRATED LIVING. AMEN.
Closing Hymn: "America the Beautiful"
A Blessing as We Depart
Peace be with those who have left us and gone to God.
MAY THEY BE AT PEACE.
May they be with God.
MAY THEY BE WITH THE LIVING GOD.
May they sleep in peace.
MAY THEY LIVE IN PEACE.
May they be where the name of God is great.
MAY THEY BE WITH THE LIVING GOD NOW AND ON THE DAY OF JUDGEMENT.
May they live with God.
MAY THEY LIVE IN ETERNAL LIGHT.
May they live in the peace of the Lord.
MAY THEY LIVE FOREVER IN PEACE.
WITH GOD, IN PEACE. AMEN.
---